HOW IT WORKS
The Personal Finance Bodyguard Program is held over the course of 12 weeks and is designed to help you make progress on your finances immediately.
As your personal money coach, I will customise your 6 sessions to focus our energy and attention on your most pressing financial concerns. I will be supporting you during each step, but also holding you accountable as we make progress together during each session.
By the end of our time together, you will have complete control over your money and the knowledge to manage your own finances confidently forever!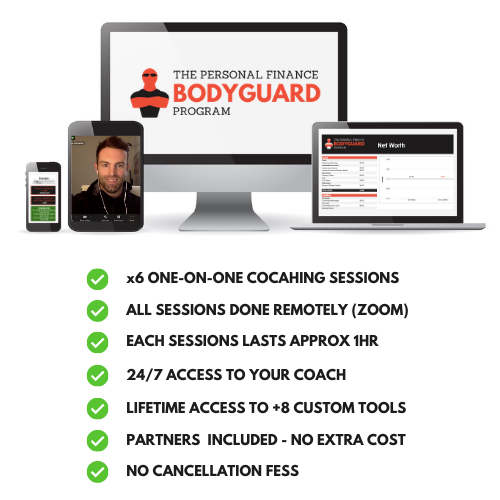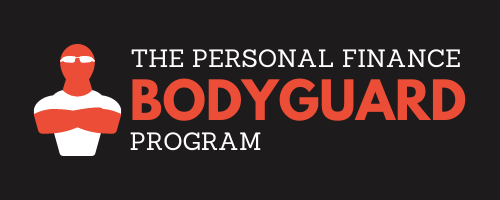 WHAT'S INCLUDED?
As a private 1-1 coaching client, you'll get access to me, your own personal finance bodyguard to help you master your money. Over the course of our 6 sessions together, I will be your personal wealth guide, giving you lifetime access to tools, systems and strategies that have helped others like you transform their financial future!
________________________________

You'll learn exactly how to:
🎯 Set & Reach Your Financial Goals
🤑 Make Saving Easy & Automatic
💳 Tackle Any Outstanding Debt
✅ Reverse Bad Money Habits
🛒 Become A Great Spender
🏠 Be Smart When Buying A House
🚘 Calculate The True Cost Of Your Car
💰Invest Safely & Build Your Wealth
💪 Get The Most Out Of Your Pension
🍾 Live Your Rich Life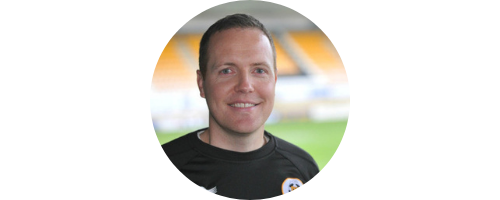 Matt Walker
Head of Performance, Cambridge United F.C
"We are delighted to have an expert like Patrick on board to help us improve the number of ways we offer support to the players at the club. His knowledge of this subject is excellent as well as his method of delivery. We want the players to maximise who they are and the skill set they have as people as well as players"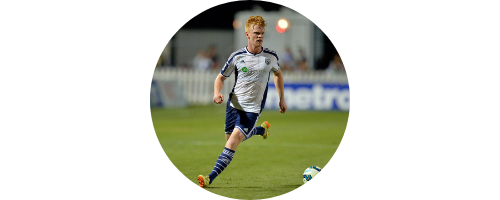 Liam
Pro Footballer
"I would recommend this program to everyone, as I have gained interest in investing, became financially stronger and improved my future life!"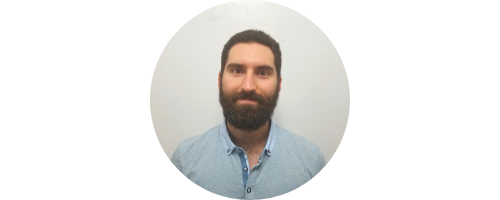 Marco
Engineer
'I grew up being told that my money is better in a savings account and that investments are risky. After completing the course, I now have the knowledge and confidence to plan and execute my financial future! I would recommend this course to anyone!"
SOUND FAMILIAR?
✅ Do you struggle to organise your finances?
✅ Are you overwhelmed and not sure where to start?
✅ Do you feel stressed or anxious about money?
✅ Is it difficult to find the right person to trust?
✅ Are you scared to make the wrong investments and loose money?
✅ Do you want to get your money working for you but not sure how?
If any of these apply to you, I have good news for you. This is completely normal!
How do I know? Because that used to be me...
Dear Future Clients,
I was not always good with money, in fact, I had some pretty terrible money habits....
I had about $15,000 in credit card debt and student debt, stressing every month about my finances, and no savings to fall back on in case of an emergency.
I was living one pay check from the edge FOR YEARS...
After my partner confessed she wanted to build a life with someone who was financially reliable, it kicked me into gear to educate myself about money!
I spent the last 4 years, including evenings and weekend, learning and developing a personal finance system that gives me total control over my money. I used it to reverse my situation and now I am well on the path to financial freedom. The best part, I am finally ready to share everything I have learned with you!
This program will save you the time, money and energy that I spent learning everything from scratch.
Gaining financial control has allowed me to negotiate better raises at work, quit jobs I found unfulfilling, start my own business, take time off to travel, visit family more frequently, but most importantly, START LIVING LIFE ON MY OWN TERMS!


IT'S TIME TO EMPOWER YOU TO DO THE SAME!
FAQ's


How do you conduct each session?
The x6 1-on-1 coaching sessions are done remotely through Zoom to allow maximum flexibility around your schedule
How long is each session?
Although they vary slightly depending on the session, most are roughly 1 hour each
How often do you hold sessions with clients?
As a guide, I encourage clients to book 1 session every 2 weeks in order to give you time to make changes between sessions and not overload you with too much all at once. Between sessions there will be exercises to complete, however, we make sure that it is manageable around your other commitments
What currency is the Personal Finance Bodyguard Program charged in?
All prices are in GBP (British Pounds).
Is the program for US or UK residents only?
Although I live in the U.K, the coaching program teaches timeless, universal, financial principles that everyone can use, regardless of where you live. All international clients are welcome to join the coaching program!
Can I reschedule sessions with my coach?
Yes, we don't penalise you for rescheduling sessions, we understand that LIFE HAPPENS!
How do I schedule my sessions?
Upon purchasing the coaching program, you'll receive further instructions on how to book a time for your appointment. All our sessions are booked through the Calendly app, a link will be shared with you to book in a time that works for you
Can I bring my partner along to sessions?
Absolutely! I am a big fan of encouraging couples to work on their finances as a team at no extra cost!
Can I get a refund if I'm unhappy with my purchase?
We are very confident in our program and seen first hand how it has transformed clients lives. However, if you are unsatisfied with the program after the first session, we will give you a 100% refund, no question asked. It's only fair in our eyes!